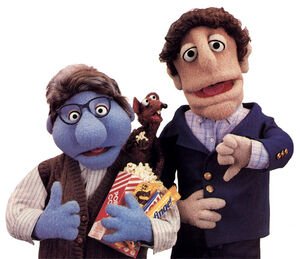 Caricatures of film critics Roger Ebert and Gene Siskel appeared in the Summer 1988 issue of Muppet Magazine. The two feature in the Mondo Muppet section, in a salute to the movies. Paired with a rat, and stocked up on munchies, they trade jokes about such cinema classics as The Empire Strikes Back, Superman, The Wizard of Oz and Close Encounters of the Third Kind.
Ad blocker interference detected!
Wikia is a free-to-use site that makes money from advertising. We have a modified experience for viewers using ad blockers

Wikia is not accessible if you've made further modifications. Remove the custom ad blocker rule(s) and the page will load as expected.