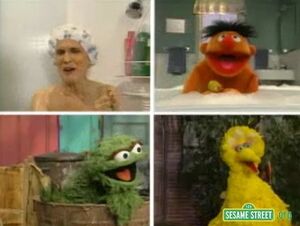 "Singing in the Shower" is a Sesame Street song where Olivia, Ernie, Big Bird, and Oscar sing about how they like to sing in their various modes of cleaning (shower, bathtub, birdbath, and mudbath, respectively.)
The song was later remade for Season 30. This version featured Ruthie in place of Olivia, and Ernie as performed by Steve Whitmire instead of Jim Henson (who performed Ernie in the original version). Despite these changes, Caroll Spinney's vocals for Oscar from the original version remain unchanged, while a portion of Big Bird's vocals are re-recorded.
An excerpt of the song is sung by Elmo, imagined as a mouse and elephant by Dorothy, in the Elmo's World segment "Bath Time." Baby Bear and Elmo sang a couple of verses of the song in a 2010 episode.
Releases
Other
Ad blocker interference detected!
Wikia is a free-to-use site that makes money from advertising. We have a modified experience for viewers using ad blockers

Wikia is not accessible if you've made further modifications. Remove the custom ad blocker rule(s) and the page will load as expected.