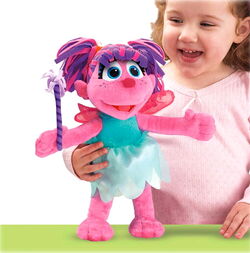 Singing Abby Cadabby was the first Abby Cadabby toy produced, produced by Fisher-Price in 2007. The toy was packaged with a DVD of Abby's introduction on Sesame Street, episode 4109. When the toy's belly is pressed, she sings, "I'm Abby Cadabby! I'd like to play with you. I'm just so happy to be friends with you."
Ad blocker interference detected!
Wikia is a free-to-use site that makes money from advertising. We have a modified experience for viewers using ad blockers

Wikia is not accessible if you've made further modifications. Remove the custom ad blocker rule(s) and the page will load as expected.