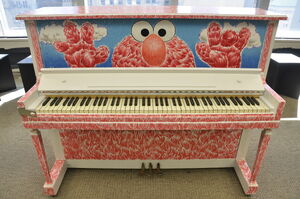 Sing for Hope is a charity that annually has an awareness program where "artist-designed pianos throughout NYC's parks and public spaces for anyone and everyone to play."
Louis Henry Mitchell painted a piano titled " Share the Laughter with Elmo!", displayed from June 25, 2017, at Kaufman Astoria Studios.
In January 2018, the piano was donated by Sesame Workshop to the Shield Institute's Learning Center in Flushing, New York.[1]
Sources
External links