Sing
Talk

22
26,397pages on
this wiki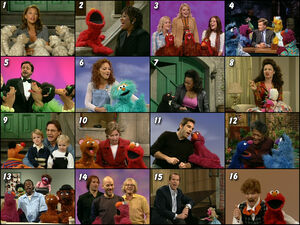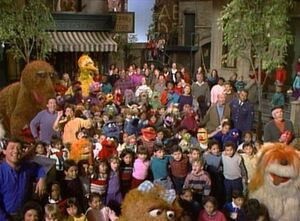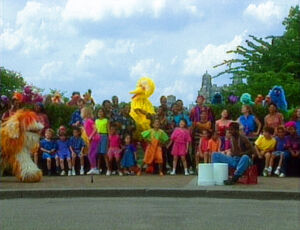 "Sing" is a Sesame Street song that has been sung countless times on the show, with many different singers. Some versions have included the lyrics in both English and Spanish (the latter written by Emilio Delgado). Like "Bein' Green," it too has become an American standard. The song as covered by The Carpenters reached number 3 on the Billboard pop charts in 1973.[1]
Muppet/Sesame Street versions
Sesame Street and specials
The Muppet Show and specials
Non-Muppet performances
The Carpenters recorded a cover of this song, which became a top 40 hit, reaching #3 on the Billboard top 100.
It has also been recorded by a diverse group of artists including The Boston Pops with Arthur Fiedler conducting, Ray Conniff, Perry Como, the Dixie Chicks, and Johnny Mathis.
Fez (Wilmer Valderrama) and the cast in the That '70s Show episode "That '70s Musical"
The song was performed by the New Zealand singer Wing on an episode of South Park which was also titled "Wing."
Tony Award winner Kristin Chenoweth recently performed a version with specially written holiday lyrics on her album A Lovely Way to Spend Christmas.
Linnea Reese (Lily Tomlin) sang and signed this song to her deaf children on Nashville (1975).
Christopher Knight (as Peter Brady) sang the song with a puppet named Collette on The Brady Bunch Variety Hour (1977).
Emilio Delgado (Luis) guests on the CD "Splendor in the Grass," singing "Sing" with China Forbes from the band Pink Martini.
Julie Andrews and Carol Burnett: Together Again (1989), as part of a 70s and 80s medley.
Videos
Releases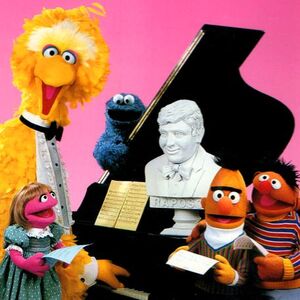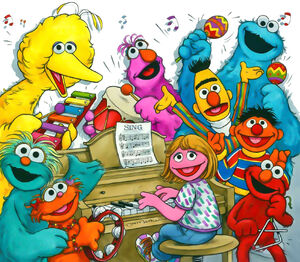 Audio
The Official Sesame Street 2 Book-and-Record Album (1971, sung by The Kids)
Someday, Little Children/Sing (single, 1971)
Sing/The Electric Company Theme (single, 1972)
Sesame Street LIVE! (1973, Bob and the Cast)
¡Sesame Mucho! (1974)
Bert & Ernie Sing-Along (1975, Bert and the Company)
Sing/What's the Name of That Song? (single, 1976)
No Matter What Your Language/Canta (Sing) (single, 1976)
10th Anniversary Album (1978)
Sing Sang Song Singalong (1978)
Sesame Disco! (1979, disco version sung by The Girls)
Sing (disco version)/The Happiest Street in the World (single, 1979)
Bob's Favorite Street Songs (1991)
Sing: Songs of Joe Raposo (1992, the Carpenters cover and a new recording featuring Muppets and Kids)
Sesame Street Celebrates! (1994, sung by Ladysmith Black Mambazo, the Kids and the Cast of Sesame Street)
Platinum All-Time Favorites (1995)
The Bird is the Word! (1995)
Wish Upon a Star: All-Time Children's Favorites (1996, performed by the Boston Pops)
The Best of Elmo (1997)
Fiesta Songs! (1998, ¡Sesame Mucho! version)
For the Kids (2002, sung by The Ivy)
Songs from the Street: 35 Years of Music (2003, original album version and the Dixie Chicks version)
Sesame Street Playground (2008)
Video
Publications
Online
Sources
↑ The Street We Live On timeline, broadcast version