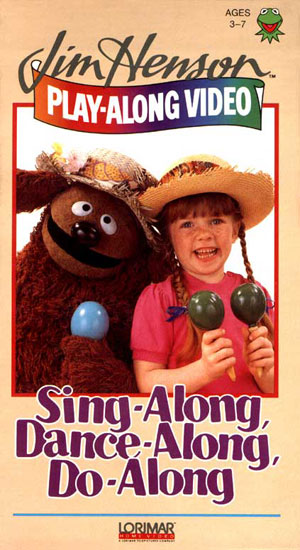 Sing-Along, Dance-Along, Do-Along is a title in the 1988 Play-Along Video series. It was recorded on March 15, 1988.[1]
Rowlf the Dog and the kids have fun doing all kinds of activities, including singing and dancing. It features interactive sing-alongs including "The Smile was on the Crocodile," "Over and Under," and more.
Credits
Muppet Performers: Jim Henson, Kevin Clash, Camille Bonora, David Rudman, Martin P. Robinson, Pam Arciero, Noel MacNeal, Jim Martin, Rickey Boyd
With Madzia Bartkowiak, Amaris Harney, Nadirah Nurradin, Naimah Nurradin, Sam Oatts, William Pointer, Richard Pollock, Charles Reed, Ruby Russell, Savannah Russell, Noah Segan, Ben Simon, and YOU
Director: Richard Hunt
Writer: Jocelyn Stevenson
Produced by: Mary Ann Cleary, Ritamarie Peruggi
Music and Lyrics: Philip Balsam, Dennis Lee, Jocelyn Stevenson, John Van Eps
Muppets Workshop: Rollie Krewson
Associate Producer: David Gumpel
Technical Director: Tom Guadarrama
Executive Producer: Jim Henson
Characters
Rowlf the Dog, Kai-Lee, P.J., Be-Bop, Farmer Lear, Luncheon Counter Monster, Quongo, Kangaroo, Penguins, Raccoons, Pigs, Crocodiles
Cameo: Kermit the Frog
Sources
Ad blocker interference detected!
Wikia is a free-to-use site that makes money from advertising. We have a modified experience for viewers using ad blockers

Wikia is not accessible if you've made further modifications. Remove the custom ad blocker rule(s) and the page will load as expected.