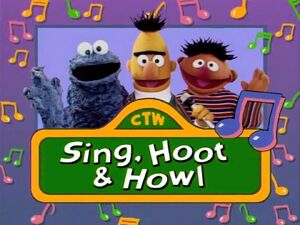 Sing, Hoot & Howl with the Sesame Street Animals is a 1991 Sesame Street direct-to-video compilation, featuring Big Bird and other Sesame Street animals showing clips of their favorite animal songs. This tape was released by Random House in the "Sesame Songs Home Video" series, and reissued in 2004 as a Sony Wonder video release.
Releases
International releases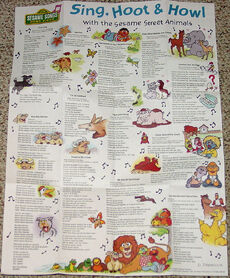 DVD chapters
The Sing, Hoot & Howl Club
Cast
Sesame Street "Puppet Performers"
Credits
Executive Producer: Dulcy Singer
Producer: Nina Elias-Bamberger
Director: Ted May
Segment Director: Emily Squires, Jon Stone
Writer: Sonia Manzano
Segment Writers: Sara Compton, Tony Geiss, Jeff Moss, Luis Santeiro
Story Consultant: Tony Geiss
Songs by: Christopher Cerf, Sara Compton, Sarah Durkee, Tony Geiss, Jeff Moss, Joe Raposo, Luis Santeiro, Fred Wardenberg
Production Designer: Victor DiNapoli
Puppet Captain: Kevin Clash
Production Manager: Sean Murphy
Special Thanks to: Sharon Lerner, Franklin Getchell, Leslie Raicer, Nina Shelton
Ad blocker interference detected!
Wikia is a free-to-use site that makes money from advertising. We have a modified experience for viewers using ad blockers

Wikia is not accessible if you've made further modifications. Remove the custom ad blocker rule(s) and the page will load as expected.