Ad blocker interference detected!
Wikia is a free-to-use site that makes money from advertising. We have a modified experience for viewers using ad blockers

Wikia is not accessible if you've made further modifications. Remove the custom ad blocker rule(s) and the page will load as expected.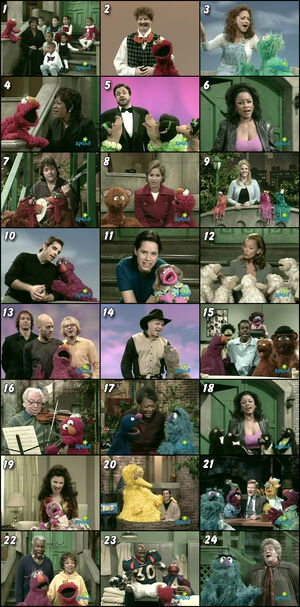 "Sing" is a Sesame Street song that has been sung countless times on the show, with many different singers. Some versions have included the lyrics in both English and Spanish (the latter written by Emilio Delgado). Like "Bein' Green," it too has become an American standard. The song as covered by The Carpenters reached number 3 on the Billboard pop charts in 1973.[1]
Muppet/Sesame Street versions
Sesame Street and specials
Big Bird sings the song in Here Come the Puppets!
On Evening at Pops: 2001, sung by Rosita and Maria
A montage with Geena Davis, Jeff Goldblum, Barbara Bush, Isaac Stern, Candice Bergen, Max Roach, Kathie Lee Gifford, Barbara Cook and Glenn Close on the special Sing! Sesame Street Remembers Joe Raposo and His Music.
In several Sesame Street Live shows including A Sesame Street Mystery: The Case of the Missing Rara Avis, Big Bird's Super Spectacular Totally Amateur Show, Big Bird and the ABCs, and Elmo's Coloring Book.
On Peter Alexander präsentiert Spezialitäten Show #10 in 1975, sung by Peter Alexander, with Big Bird, Cookie Monster, Ernie, Bert, and Kermit the Frog. (YouTube)
A brief instrumental version accompanied the Sesame Songs Home Video opening title card.
At the 2009 Daytime Emmy Awards, the cast of Sesame Street, celebrating their 40th anniversary, sang a medley of songs, including "Sing."
"Sing" has also been sung by the Sesame Street cast in a few Macy's Parades. In 2009, it was incorporated in a medley with "What Makes Music?"
A German version has been sung for Sesamstrasse as part of the international co-production's 40th anniversary live tour 40 Jahre Sesamstrasse - Die Geburtstags-Show. (YouTube)
The Muppet Show and specials
Non-Muppet performances
Videos
Releases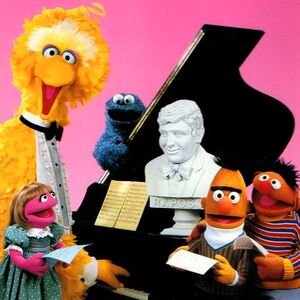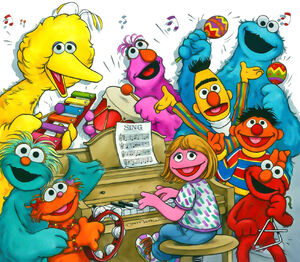 Audio
The Official Sesame Street 2 Book-and-Record Album (1971, sung by The Kids)
Someday, Little Children/Sing (single, 1971)
Sing/The Electric Company Theme (single, 1972)
Sesame Street LIVE! (1973, Bob and the Cast)
¡Sesame Mucho! (1974)
Bert & Ernie Sing-Along (1975, Bert and the Company)
25 Greatest Hits (1975)
Sing/What's the Name of That Song? (single, 1976)
No Matter What Your Language/Canta (Sing) (single, 1976)
10th Anniversary Album (1978)
Sing Sang Song Singalong (1978)
Sesame Disco! (1979, disco version sung by The Girls)
Sing (disco version)/The Happiest Street in the World (single, 1979)
Bob's Favorite Street Songs (1991)
Sing: Songs of Joe Raposo (1992, the Carpenters cover and a new recording featuring Muppets and Kids)
Sesame Street Celebrates! (1994, sung by Ladysmith Black Mambazo, the Kids and the Cast of Sesame Street)
Platinum All-Time Favorites (1995)
The Bird is the Word! (1995, Big Bird and the Kids)
Wish Upon a Star: All-Time Children's Favorites (1996, performed by the Boston Pops)
The Best of Elmo (1997, Elmo, Big Bird, Telly, Hoots the Owl, Grover and the Kids)
Fiesta Songs! (1998, ¡Sesame Mucho! version)
For the Kids (2002, sung by The Ivy)
Songs from the Street: 35 Years of Music (2003, original album version and the Dixie Chicks version)
Sesame Street Playground (2008)
Video
Publications
Sources
↑ The Street We Live On timeline, broadcast version