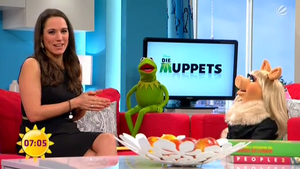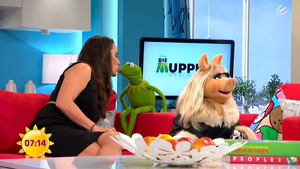 Simone Panteleit (b. 1976) is a German radio and television host, who studied German philology, law and history in Berlin.
Panteleit has been one of the regular hosts of SAT.1 Frühstücksfernsehen since 2008. On January 20, 2012, Kermit the Frog and Miss Piggy appeared on the morning show to promote Die Muppets, and talked to Panteleit about the film.
The host presented Piggy with a colorful wristband that was supposed to remind her of Kermit wherever she'd go. Yet toward the end of the interview, Panteleit snuck more than just a few kisses from the frog, with the pig suspecting that something was going on, but merely delivering a few warnings to the host.[1]
Sources
↑ SAT.1 - Talk: Kermit und Miss Piggy (2012-01-20) video
External links
Ad blocker interference detected!
Wikia is a free-to-use site that makes money from advertising. We have a modified experience for viewers using ad blockers

Wikia is not accessible if you've made further modifications. Remove the custom ad blocker rule(s) and the page will load as expected.