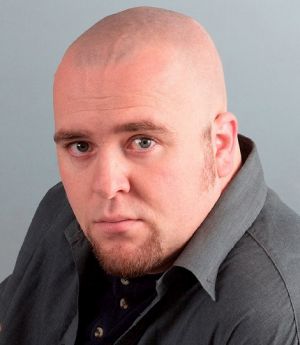 Simon Zwiers is a Dutch actor, bass player, and voice actor who voiced Tommie in several Sesamstraat Theater shows, beginning in 2010.
Zwiers is active in musical theater, appearing in such shows as My Fair Lady (ensemble and understudying Doolittle and others), Man of La Mancha (the governor/innkeeper), and Pinocchio (the ringmaster).
Zwiers has put his gruff tones to use in dubbing, often as coaches, villains, and other intimidating types. Animated features include Chicken Little (Coach), Meet the Robinsons (another coach), and Zootopia (Chief Bogo). Live action dubbing includes Bart Johnson as Coach Bolton in the High School Musical movies and Michael Chiklis as Ben Grimm in The Fantastic Four. Video game roles include Darth Vader (in Disney Infinity) and Batman.
Sesamstraat voice credits
External links