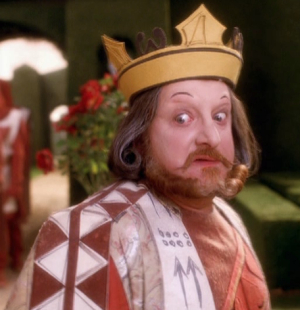 Simon Russell Beale (b. 1961) is an English stage actor, known for his Shakespearean portrayals, and an associate of the Royal Shakespeare Company. In 1999, Beale played the fussy King of Hearts in the Creature Shop TV movie Alice in Wonderland.
In films, Beale played the second gravedigger in Kenneth Branagh's 1996 film Hamlet and clergyman Luke Fraser in the horror film The Gathering. On Broadway, he starred in the 2004 revival of Tom Stoppard's Jumpers, as George (a part originated by Michael Hordern). In 2005, he replaced Tim Curry as King Arthur in Spamalot. In television, he portrayed John Adams in a 2006 episode of the PBS series The American Experience.
External links
Ad blocker interference detected!
Wikia is a free-to-use site that makes money from advertising. We have a modified experience for viewers using ad blockers

Wikia is not accessible if you've made further modifications. Remove the custom ad blocker rule(s) and the page will load as expected.