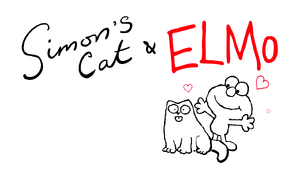 Simon's Cat is an animated YouTube series produced by animator Simon Tofield in 2008.
The channel partnered with Sesame Street in 2016 for their online "Love to Learn" campaign. As a part of "Animals Month," the titular character appeared in a pair of shorts with Elmo, released on both the Simon's Cat channel and the Sesame Street channel.
Tofield said about the collaboration:
"

I grew up watching Sesame Street and the chance to get to work with one of the best-loved characters in the show was a fantastic opportunity! Simon's Cat's slapstick comedy has a lot in common with the humor of Sesame Street and I think the two sit together really well.[1]

"
Sources
↑ "Simon's Cat & Sesame Street Collaborate on New Content, Worldscreen.com
Ad blocker interference detected!
Wikia is a free-to-use site that makes money from advertising. We have a modified experience for viewers using ad blockers

Wikia is not accessible if you've made further modifications. Remove the custom ad blocker rule(s) and the page will load as expected.