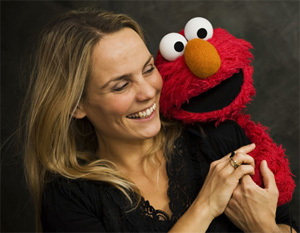 Signe Vaupel (b. 1976) is the co-host on Sesamgade along with Elmo.
Signe started her acting career at the age of ten, when she appeared in the musical Annie at Nørrebro theater. Afterwards she was part of Danmarks Radios girl-choir were she sang for 8 years. Signe was accepted to The American Musical and Dramatic Academy on Broadway in New York in 1997. After Signe returned to Denmark, in 2000, she got accepted into Odense theaters acting school, where she graduated from in 2004.
Some of her theater credits include West Side Story as Maria, Ronja Røverdatter as Ronja, and The Importance of being Earnest. Her movie credits include Nordkraft as Maja, a role she won the award for Best Supporting Role at the Taormina film festival in 2005, Virginity, Allegro Råzone and Panser.
External links
Ad blocker interference detected!
Wikia is a free-to-use site that makes money from advertising. We have a modified experience for viewers using ad blockers

Wikia is not accessible if you've made further modifications. Remove the custom ad blocker rule(s) and the page will load as expected.