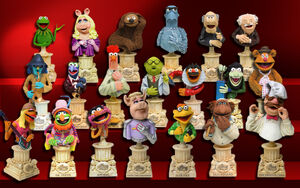 Sideshow Collectibles is a subsidiary of WETA Digital, the company best known for having done the effects for the The Lord of the Rings trilogy. The company specializes in producing prop replicas of movie memorabilia (most notably Star Wars, and Marvel) and other such collectible merchandise.
From 2002 to 2003, the company produced a series of Muppet Show character busts.
Also in 2002, the company produced a set of Gelfling dolls.
Ad blocker interference detected!
Wikia is a free-to-use site that makes money from advertising. We have a modified experience for viewers using ad blockers

Wikia is not accessible if you've made further modifications. Remove the custom ad blocker rule(s) and the page will load as expected.