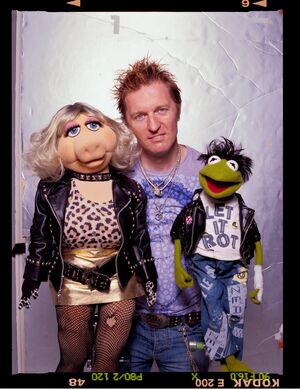 Sid and Nancy (also known as Sid and Nancy: Love Kills) is a 1986 British biopic directed by Alex Cox. The film chronicles the life of Sid Vicious (Gary Oldman), bassist of punk rock band the Sex Pistols, and his relationship with Nancy Spungen (Chloe Webb).
For the 2005 Holiday issue of Zink Magazine, photographer Mike Ruiz and fashion designer Keanan Duffty collaborated to create an image inspired by the film, with Kermit the Frog as Sid Vicious and Miss Piggy as Nancy Spungen. Miss Piggy made it into the issue with a number of other movie spoofs, yet this film's photo did not make the cut.
However, the image (with Duffty between the couple) saw the light of day when the fashion designer posted it on his blog in 2011.
External links
Ad blocker interference detected!
Wikia is a free-to-use site that makes money from advertising. We have a modified experience for viewers using ad blockers

Wikia is not accessible if you've made further modifications. Remove the custom ad blocker rule(s) and the page will load as expected.