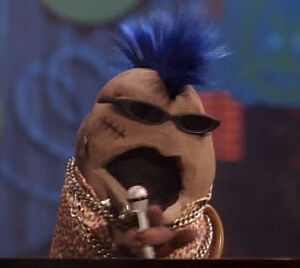 Sid Vicious (born John Simon Ritchie, 1957-1979) was an English rock star, best remembered as a member of the rock group Sex Pistols. Johnny Rotten, also of the Sex Pistols, gave Ritchie his nickname. After his pet Hamster, Sid, bit Ritchie on the finger, Ritchie called the rodent vicious, and the name was born.
On Muppets Tonight, he was parodied with the character Sid Knishes, a punk rock potato.
Nick Normal, of Sesame Street, also bore a slight semblance of Vicious.