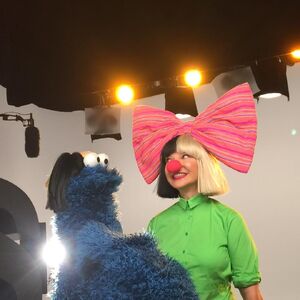 Sia Furler (b. 1975), referred to mononymously as Sia, is an Australian singer and songwriter. Sia's music incorporates hip hop, funk and soul as a base for her vocal styling. For many live appearances, Sia chooses not to show her face, either facing away from audiences or hiding behind large over-sized wigs.
In March 2016 Sia filmed a segment for Sesame Street's 47th season. Sia appeared with a black-and-white wig with an over-sized bow and hid her face with a red clown-nose. Sia appeared with Big Bird, Elmo, Cookie Monster, and Abby Cadabby (many of whom wore matching wigs).
Ad blocker interference detected!
Wikia is a free-to-use site that makes money from advertising. We have a modified experience for viewers using ad blockers

Wikia is not accessible if you've made further modifications. Remove the custom ad blocker rule(s) and the page will load as expected.