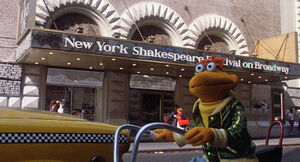 The Shubert Theatre is an historic theatre in Manhattan which opened in 1913.
The theatre features briefly in The Muppets Take Manhattan during the "Looking for Kermit" sequence. Scooter rides his bicycle down the street, and past the Shubert which was playing A Chorus Line at the time. The theatre is located three blocks away from the Biltmore Theatre where the Muppets were in pre-production for Manhattan Melodies.
Ad blocker interference detected!
Wikia is a free-to-use site that makes money from advertising. We have a modified experience for viewers using ad blockers

Wikia is not accessible if you've made further modifications. Remove the custom ad blocker rule(s) and the page will load as expected.