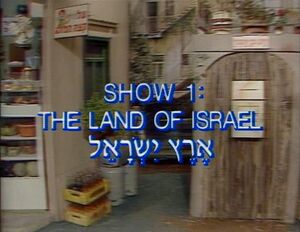 Picture
Segment
Description

SCENE 1

Itzhak Perlman introduces the show and how it is similar to Sesame Street, such as having a barvazoni (a Rubber Duckie).

SCENE 1 cont'd

Bonnie Franklin comes to the street and introduces herself to the residents.

Film

A song about Metula, a city in the Northern District of Israel.

Muppets

Bert tells Ernie not to eat cookies in bed, because he might get crumbs in the bed. Ernie decides to eat cookies in Bert's bed instead.
Bert's lines are dubbed in Hebrew.

SCENE 2

Itzhak is on Dizengoff Street in Tel Aviv and talks to some kids who just moved there.

Cartoon

Animals sing "Shalom!" to each other.

Film

An Israeli Arab boy looks for his grandfather, but everyone he ask tells him he's "over there". He walks around the village until he finds him at the mosque.

SCENE 3

Itzhak introduces the aleph-bet.

Cartoon

Hebrew Alphabet




Cast / Muppets

Rechov Video
The guest VJ's this week are Itzhak and Rubber Duckie. They introduce "Rubber Duckie".
Ernie's singing vocals are dubbed, but his dialogue in the middle remains in English.

SCENE 4

A boy introduces Bonnie to the city of Jerusalem.

Cartoon

A boat's smoke forms an Aleph.

SCENE 5

Bonnie, some kids and Moishe Oofnik introduce the letter Aleph.

Film

A song about Haifa, another Israel city.




SCENE 6

Bonnie and a girl observe some posters, one of which features a famous singer who once appeared on the street. A flashback (from Rechov Sumsum) is then shown.

Animation

A man sits on a bench, not noticing the "Wet Paint" sign.
Artist: Rony Oren

Film

Kids climb the Masada, a famous mountain in Israel.

Cartoon

Train #2

Celebrity

Mary Tyler Moore learns some Hebrew words from a girl.

Film

Some kids sing about their afternoon. (An image of Ernie appears on one child's Hippity-Hop.)

Cartoon

A boy counts the stairs as he climbs them with his sack of toys.

SCENE 7

Itzhak describes the history of the city of Caesaria and performs in the Roman Theater, claiming it's now home to violins and not violence.

Closing

Kippi announces the sponsors.
Releases