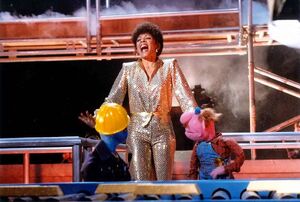 Shirley Bassey (b. 1937) is a Welsh cabaret and pop singer. She was the guest star on The Muppet Show episode 504.
Bassey sang the theme songs for three of the James Bond films: "Goldfinger" (1964, which she reprised on The Muppet Show), "Diamonds Are Forever" (1971) and "Moonraker" (1979). "Goldfinger" reached #8 on the Billboard Top 40 chart in February 1965.
She was awarded the CBE in 1993 and named a Dame by Queen Elizabeth II on New Year's Eve, 1999.
Ad blocker interference detected!
Wikia is a free-to-use site that makes money from advertising. We have a modified experience for viewers using ad blockers

Wikia is not accessible if you've made further modifications. Remove the custom ad blocker rule(s) and the page will load as expected.