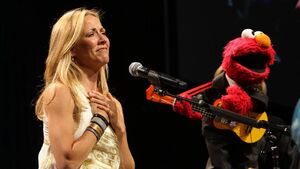 Sheryl Crow (b. 1962) is a singer and songwriter who became famous in 1993 for her songs "Leaving Las Vegas" and "All I Wanna Do".
In 2003, she appeared on Episode 4036 of Sesame Street, singing "I Soaks Up the Sun" -- a parody of her song "Soak Up the Sun".
Crow later appeared in the Sesame Street holiday special Elmo's Christmas Countdown, and performed with Elmo at the Sesame Workshop 40th Anniversary Gala.
External links
Ad blocker interference detected!
Wikia is a free-to-use site that makes money from advertising. We have a modified experience for viewers using ad blockers

Wikia is not accessible if you've made further modifications. Remove the custom ad blocker rule(s) and the page will load as expected.