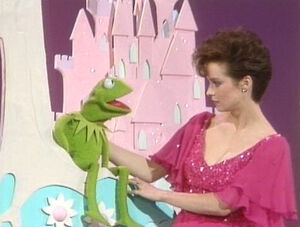 Sheena Easton (b. 1959) is a singer whose hits include "For Your Eyes Only" (written for the James Bond movie of the same name), "The Arms of Orion" (a duet with Prince for the 1989 Batman soundtrack), and "The Wind Beneath My Wings" (later popularized by Bette Midler). She has also done voiceover work for Phineas and Ferb, All Dogs Go to Heaven, The Legend of Tarzan, and made on-screen appearances in The Outer Limits, William Shatner's TekWar, and Miami Vice.
In 1983, Easton appeared in Happy Birthday, Bob, an 80th birthday celebration special for Bob Hope. She and Kermit the Frog sang "Just the Way You Are" as a duet.
Ad blocker interference detected!
Wikia is a free-to-use site that makes money from advertising. We have a modified experience for viewers using ad blockers

Wikia is not accessible if you've made further modifications. Remove the custom ad blocker rule(s) and the page will load as expected.