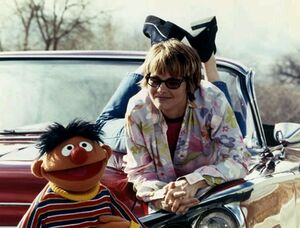 Shawn Colvin (b. 1956) is a singer-songwriter whose single "Sunny Came Home" reached the US Top Ten, and won Grammy Awards for Song and Record of the Year. She sang "I Don't Want to Live on the Moon" with Ernie in the 1998 Elmopalooza special. Colvin has since performed the song in her own concerts.
Colvin wrote the theme song for Brooke Shields' television series Suddenly Susan, has voiced Rachel Jordan on The Simpsons, and appeared on Baywatch.
External links
Ad blocker interference detected!
Wikia is a free-to-use site that makes money from advertising. We have a modified experience for viewers using ad blockers

Wikia is not accessible if you've made further modifications. Remove the custom ad blocker rule(s) and the page will load as expected.