Written by
Lisa Loeb
Publisher
Furious Rose Music (BMI)
Easy Reader Music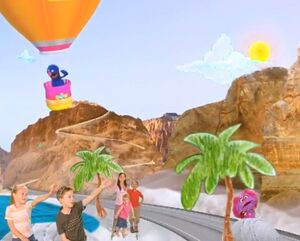 The "Shalom Sesame Theme Song" opens every episode of the 2010 Shalom Sesame revival. The visuals show Grover traveling all over Israel in a plane, hot air balloon, submarine, bus etc. as kids and other Rechov Sumsum characters pop up and wave.
In addition to composing, Lisa Loeb performs the main vocals for the song, with a child chorus of Isabel and Ovlive Petty, Harrison and Molly Rich, Lilly Mansel and Olivia Mooney.