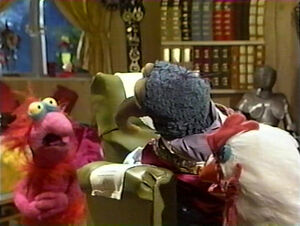 Shakey Sanchez is a small pink creature who can be seen in several episodes of The Muppet Show. He debuted in episode 116 (performed by Jim Henson), scatting along with guest star Avery Schreiber and a host of other creatures in the closing number (performed by Jerry Nelson). Shakey Sanchez also made some audience cameos here as well.
He received his name in episode 507, where he performs a bomb balancing act. Steve Whitmire performed him in the episode.
The puppet was later recycled in the Mopatop's Shop episode "Princess Lulabelle" as Princess Lulabelle, a princess looking for a frog to kiss.
FilmographyEdit
Book AppearancesEdit