PERFORMER
various
DEBUT
1976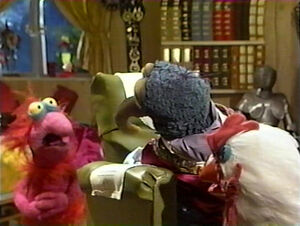 Shakey Sanchez is a small pink creature who can be seen in several episodes of The Muppet Show. He debuted in episode 116 (performed here by Jerry Nelson), scatting along with guest star Avery Schreiber and a host of other creatures in the closing number. He also prominently appeared in episode 119 (performed by Jim Henson), fighting his fate of being devoured by Behemoth in a performance of "I've Got You Under My Skin."
He received his name in episode 507, where he performs a bomb balancing act. Steve Whitmire performed him in the episode.
When he appeared as a citizen in the Hat Sharpener's Kingdom in The Jim Henson Hour episode "Power", he was performed by Dave Goelz.
The puppet was later recycled in the Mopatop's Shop episode "Princess Lulabelle" as Princess Lulabelle, a princess looking for a frog to kiss.
Filmography
Book Appearances
Ad blocker interference detected!
Wikia is a free-to-use site that makes money from advertising. We have a modified experience for viewers using ad blockers

Wikia is not accessible if you've made further modifications. Remove the custom ad blocker rule(s) and the page will load as expected.