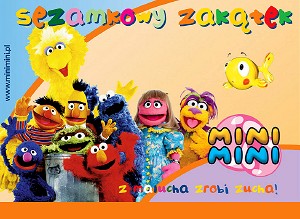 Sezamkowy Zakątek (Sesame Corner, or Sesame Nook) is a one-hour programming block on the Polish kids' channel MiniMini, that includes Elmo's World, Play With Me Sesame, Global Grover, and Sesame English. The station is also seen in Hungary and Croatia.
The original Polish co-production of Sesame Street, Ulica Sezamkowa, is not in production anymore.
The Sezamkowy Zakątek programming block began airing in August 2006, and has continued into 2010.
Sezamkowy merchandise includes a series of US storybooks translated into Polish, and a monthly Sezamkowy Zakątek magazine.
External links