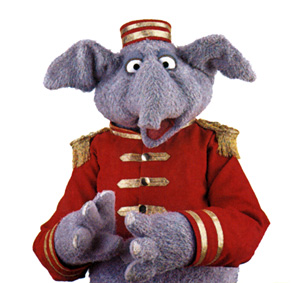 Seymour is an elephant who appeared on Muppets Tonight. He and Pepe the King Prawn worked at the KMUP studios, as elevator operators in the first season and as commissary employees in the second. Seymour and Pepe ("We're two of a kind!") fancied themselves performers and sought to land a spot on the show whenever possible.
Although Seymour was dropped after the series, Pepe went on to become a major character. Pepe stated at MuppetFest that Seymour is currently living in a condo in Florida. In a 2008 interview, Pepe reported that Seymour's green card expired and he was subsequently deported to India where he works in a zoo.[1]
In a response to a Twitter question in 2012, Pepe said he's still friends with Seymour. The problem is he can't fit in a lot of the clubs Pepe goes to.[2] In another interview, he mentions Seymour works in the sanitation business in L.A.[3]
Sources
↑ Lothario Muppet Pepe reveals foolproof chat up line. Uk.movies.yahoo.com
See also