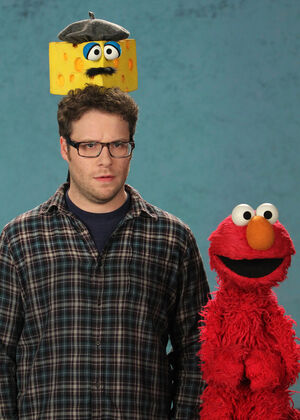 Seth Rogen (b. 1982) is a Canadian actor/comedian, screenwriter, voice artist, and film producer. His first breakout role was as a regular on Freaks and Geeks. Rogen appeared on Sesame Street to explain the word "embarrassed" in a Season 42 Word of the Day segment.
Other credits include writing and providing the voice of Lyle McCarthy in The Simpsons episode "Homer the Whopper," guest spots on Family Guy and Dawson's Creek, and starring in the feature films Knocked Up, The Green Hornet and Superbad. He has also hosted Saturday Night Live a couple of times, playing Rowlf the Dog. As a voice actor, he was heard in the animated features Horton Hears a Who! (as Morton the Mouse), Kung Fu Panda (with Jack Black) and Monsters vs. Aliens (with Reese Witherspoon, Hugh Laurie and Will Arnett).
External links
Ad blocker interference detected!
Wikia is a free-to-use site that makes money from advertising. We have a modified experience for viewers using ad blockers

Wikia is not accessible if you've made further modifications. Remove the custom ad blocker rule(s) and the page will load as expected.