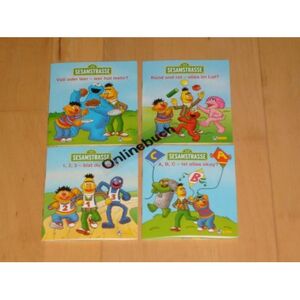 In 2004, Nelson Verlag published a series of
Sesamstrasse
mini books. The mini books are as followed:
A, B, C - Ist alles Okay?
(
A, B, C - Is everything okay?
),
1, 2, 3 - bist du dabei?
(
1, 2, 3 - Are You In?
),
Voll oder leer - wer hat mehr?
(
Full or Empty - Who has More?
) and
Rund und rot - alles im Lot?
(
Round and Red - Everything OK?
).
Ad blocker interference detected!
Wikia is a free-to-use site that makes money from advertising. We have a modified experience for viewers using ad blockers

Wikia is not accessible if you've made further modifications. Remove the custom ad blocker rule(s) and the page will load as expected.