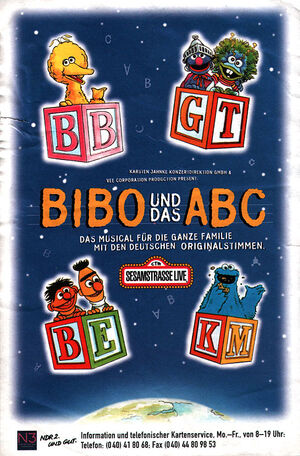 Sesamstrasse Live is the German version of the Sesame Street Live touring show.
In the beginning the shows inlcude the addition to the American Sesame Street characters as the original version, but in later shows, the show also includes Samson, Finchen, Wolle and Pferd from Sesamstrasse.
Sesamstrasse Live Shows
1996 Bibo und das ABC
1998 Bibo und Der Monsterclub
1999 123...Wir Träumen!
2001 Wenn Ich Gross Bin
2004 Sei Mein Freund!
2013 Die Geburtstags-Show
External links
Ad blocker interference detected!
Wikia is a free-to-use site that makes money from advertising. We have a modified experience for viewers using ad blockers

Wikia is not accessible if you've made further modifications. Remove the custom ad blocker rule(s) and the page will load as expected.