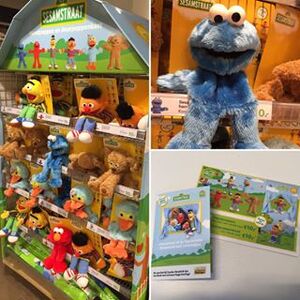 Some Dutch supermarket chains (Albert Heijn and Jumbo) started selling hand puppets featuring Sesamstraat characters in 2016.
You could save stickers with each €5 euro you spent and when the card was full (6 stickers) you could buy them for €9,99. Besides the handpuppets you could also purchase a puppet theatre to hang into the door opening.
The set had the following figures: Bert, Ernie, Cookie Monster, Pino, Tommie, and Elmo.
In 2017 the puppets that where left after this action, revived in the Vomar stores for half the price.
External links
Ad blocker interference detected!
Wikia is a free-to-use site that makes money from advertising. We have a modified experience for viewers using ad blockers

Wikia is not accessible if you've made further modifications. Remove the custom ad blocker rule(s) and the page will load as expected.