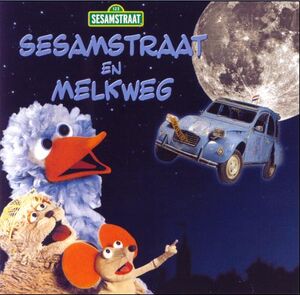 This soundtrack album for the Sesamstraat movie Sesamstraat en Melkweg (Sesamstraat and the Milky Way) in Artis Zoo's Planetarium, was released by Weton-Wesgram and Artis in 1992. The show ran until 1996. There also came a reissue in 2003, when the show was digitally remastered and showed again.
The album contains the complete soundtrack (including the songs), as well as ten tracks about animals.
Track listing
Sesamstraat En Melkweg (Sesamstraat and Milky Way) - Aart, Tommie, Pino and Ieniemienie have an adventure in outer space
'n Kuiken Is Geen Kip (A Chick Is Not a Chicken) - Frank Groothof
Music by Harry Bannink, Lyrics by Hans Dorrestijn
Op De Boerderij (On the Farm) - Bill Van Dijk
Tijgerjacht (Tiger Hunt) - Ernie
Translation by Ton Hasebos
Een Inktvis Heeft Het Moeilijk (Octopus Blues) - An Octopus
Visje (Fishie) - Tommie
Music by Harry Bannink, Lyrics by Theo Olthuis
Troeteldier (Transylvania Love Call) - The Count and The Countess
Ik Ben Mijn Lieve Hondje Kwijt (Has Anybody Seen My Dog?) - Bert and Ernie
Music by Joe Raposo, Lyrics by Ton Hasebos
Wat Moet Je Doen Met Een Ezel? (What Can You Do with a Burro?) - Various
Pino Is Een Vlinder (Pino Is A Butterfly) - Pino, Tommie and Ieniemienie
De Ballade Van De Vlinder (The Ballad Of the Butterfly) - Pino, Tommie and Ieniemienie
Music and Lyrics by Victor Alstef, Wim van den Hurk and Jorg Bryant
Cast
Production credits
(Sesamstraat En Melkweg only)
Script:
Lyrics:

Chris Winsemius Middle 3 songs only
Wim T. Schippers Intro- and outrosongs

Musical Direction by:

Cor Bolten assisted by Edward Gijsen Background music
Clous van Mechelen Intro- and outrosongs

Sound Techniscian:

Leo Oostenburg (Geluid Leiden) and Clous van Mechelen

Photographics by:
Illustrations by:
Trivia
Bert and Ernie, as performed by Paul Haenen and Wim T. Schippers, make a speaking appearance during the theme song.
See also
Ad blocker interference detected!
Wikia is a free-to-use site that makes money from advertising. We have a modified experience for viewers using ad blockers

Wikia is not accessible if you've made further modifications. Remove the custom ad blocker rule(s) and the page will load as expected.