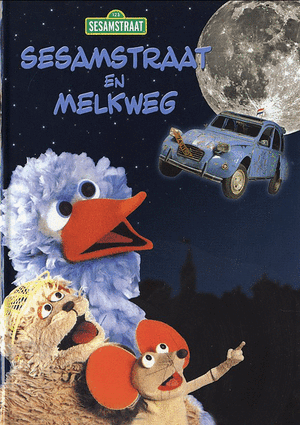 Sesamstraat en Melkweg (Sesamstraat and the Milky Way) is a half hour movie starring the cast of Sesamstraat, the Dutch co-production of Sesame Street. It was created in 1992 for the Artis Zoo in Amsterdam.
Mixing photo projection with video clips, the musical Outer Space adventure ran daily in the zoo's Planetarium from 1992 to 1996. It returned (by popular demand) in 2003, digitally restored and with some new video footage.
The plot involves Pino, Tommie and Ieniemienie looking for Meneer Aart to tell them a bedtime story. They find him working on the engine of his car: when they jump inside, it suddenly blasts off into the Milky Way. With the help of Flonkertje (Little Twinkle), a space creature that communicates through twinkling, they try to find their way back to Earth, while learning all about our solar system.
Bert and Ernie make speaking appearances, singing the intro and outro tunes.
Merchandise for the movie included a book and a soundtrack album.
Cast
Puppeteers:
Actors:
Voices:
Crew
See also