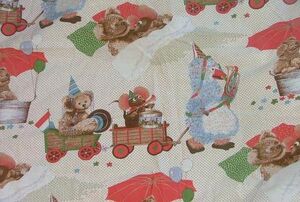 In the early 80s there was cloth on the market that was used for making curtains or other crafts.
The figures that were used for this fabric came directly from the book Spelen met Sesamstraat.
The photos that were published in this book were combined and made more graphic for this nice piece of curtain cloth.
The fabric was also sold as bedsheeding, but the pillow had a print from a later version of these Muppets
Ad blocker interference detected!
Wikia is a free-to-use site that makes money from advertising. We have a modified experience for viewers using ad blockers

Wikia is not accessible if you've made further modifications. Remove the custom ad blocker rule(s) and the page will load as expected.