Sesamstraat PVC figures (Albert Heijn)
Talk

0
27,362pages on
this wiki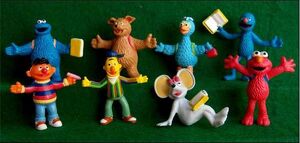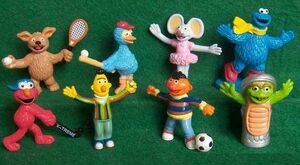 The Dutch supermarket chain Albert Heijn started selling microwave foods and yogurt deserts featuring Sesamstraat characters in 2005.
The microwave meals (such as spinach, rice, and pasta) were sold in cardboard boxes with cut-out Sesame Street domino cards on them. With each meal, a package of apple sauce was included, with Ernie on it.
The cups of yoghurt came in strawberry, banana and red fruits flavor. Bert and Ernie are depicted on them.
With each microwave meal or yoghurt cup, a tiny plastic collectable figure was included. A second and third series of figures were produced for the yoghurt deserts. Each series consisted of the following figures:
Series 1: Elmo, Bert, Ernie, Cookie Monster, Pino, Tommie, Ieniemienie, Purk
Series 2: Bert in sports outfit, Ernie in sports outfit, Cookie Monster on base, Grover, Count von Count, Oscar the Grouch, Tommie sitting with backpack and apple, Pino (from first series)
Series 3: Elmo with schoolbag, Ernie with crayon, Bert with baseball cap, Cookie Monster with book and schoolbag full of cookies, Grover with book, Tommie with schoolbag, Pino with schoolbag and lunchbox, Ieniemienie sitting with book.
Series 4: Elmo with hockeystick, Pino with a baseball bat, Ieniemienie with a tutu, Ernie with a football, Tommie with a tennis racket, Oscar with a pitchers costume, Bert with a Jeu de Boule ball and Cookie on ice-skates.
Each figure came with a bio card featuring a short story about the character.