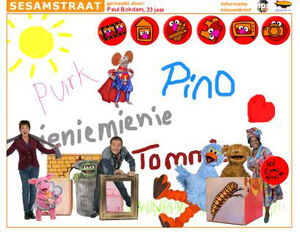 | | |
| --- | --- |
| URL  | [1] |
| Active  | ent |
| Type  | NPS web site |
| Creator  | |
Sesamstraat NPS is an official Sesamstraat website, featuring video clips, games, playlists, and more. It's the official NPS website that keeps updating and changing for the better. Every year new games and video clips are added to keep children active online. The site had several changes during the years.
Trough red pictogramic round buttons, you can walk arround the site. Options are to wacht a videoclip or listen to music, design the websites background for a day, play videogames with your favorite muppets, write in the guestbook or just email to Sesamstraat.
Video clips and songs can be found about the most famous songs of the series. Bij choosing between the left button on the jukebox you can listen to the songs. Or when you want to watch the clips ush the right button...
There are several videogames on the site where you can play a quiz by watching a clip and answer a question afterwards about it. Or you can colour with Purk, dress Ieniemienie, etc.
The option to design the background of the site is quiet new. You can draw, upload a picture and paste the muppets/ actors or thing in your design. When you upload the background it's possible that one is chosen to use the nex day.
Also the guestbook is used daily. Children and teenagers still enjoy writing to the Muppets from Sesamstraat.
The earliest version of the site was in the form of a song archive, launched arround 2000. Only then childeren could get colouringpages to print out and find some background information. Later on the website developed more activly so childeren could do little games, and besides printing the colouringpages they could paint them online.
On March 25, 2007 there was also a online chat with Pino, called Praten met Pino. During a promotional film with Lot Lohr and Pino, kids were told that it was the only time to have a live, online video chat with Pino.
Gallery
External link