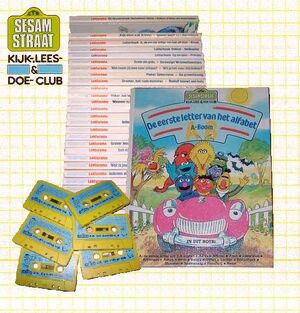 The Sesamstraat Kijk-, Lees- & Doe-Club (Sesamstraat Look, Read & Do Club) was created by Lekturama in 1986.
Every few weeks, the members would receive up to four Sesamstraat books in a big red cardboard box.
36 books were released: 24 books, each featuring translated versions of two Sesame Street storybooks, and The Sesame Street Dictionary divided over twelve books named "Letter Books". The material from the encyclopedia was previously used for Het boek van Ienie Mienie en haar vriendjes and a Cookie Monster cookbook.
Each book also featured a story written by Lex Goudsmit, who played the grandfather character on the show.
Special bonuses were included with the books, such as a Bert & Ernie 45 RPM single, markers with figurine pencil toppers, a cut-out memory game, a measuring lint, and Bert & Ernie bookends.
The book club was refounded in 1991: this time, the books came with cassettes featuring (among others) Sesamstraat actors Sien Diels and Lex Goudsmit reading the stories and voice actor John Collee.
Alphabet Books
External links
Ad blocker interference detected!
Wikia is a free-to-use site that makes money from advertising. We have a modified experience for viewers using ad blockers

Wikia is not accessible if you've made further modifications. Remove the custom ad blocker rule(s) and the page will load as expected.