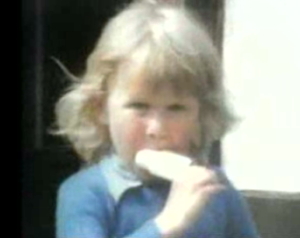 Sesamplein (Sesame Square) was the pilot episode for Sesamstraat, the Dutch co-production of Sesame Street.
The 35-minute pilot was produced by broadcasting organization VARA in 1974 and disappeared in the archives because broadcasters NOS and BRT joined forces to make Sesamstraat; the pilot aired for the first time on January 4th 1996 in honor of Sesamstraat's 20th anniversary, complete with commentary subtitles.
The pilot stars Ruud Jans and Saskia van Schaik, showing a little girl named Nicole Barbiers around her new neighborhood. She gets to meet the strange shopkeeper Mr. Brouwer, played by Alexander Pola, and the letter vendor, played by Adèle Bloemendaal. The street scenes were shot on location in the north of Amsterdam.
The Muppet voices are performed by Frans van Dusschoten and Ger Smit, who were famous for their voicework on the popular Dutch puppet series De Fabeltjeskrant. In the actual series, they were replaced by Paul Haenen, Wim T. Schippers and others. Frans van Dusschoten also performed the Dutch voice of Gobo Fraggle.
Most of the Muppet clips in the pilot (from 1969 and 1970) are quite scarce, and blended in with the street story: Grompie (the early Grover) lived next door to Ruud and Saskia, and even Bert and Ernie had their names displayed on a door.
There are no Dutch Muppets in the pilot. Instead, the Questor puppets of Ernie and Cookie Monster appear with the Dutch cast.
The pilot episode seems to be brought by the letter T and the number 20. The idea of 'one letter/number per episode' was dropped in Sesamstraat.
Scenes
Sesamplein Theme (similar to original Sesame Street intro)
Ruud introduces Nicole to Saskia
Muppets: Grompie explains Near and Far
Cartoon: Fakir counts to 20 on his fingers
Ruud, Saskia and Nicole walk past a TV store
Cartoon: T for TV
Ruud, Saskia and Nicole walk past Bert and Ernie's house: Nicole takes a peek inside
Muppets: Bert and Ernie - Am I really here?
Cartoon: drawing a fish
Nicole and Saskia look at an aquarium
Muppets: Octopus' Garden
Cartoon: T for TV
Mr. Brouwer sells "T" instead of tea
Muppets: Ernie and Cookie Monster explain fork, knife and spoon
The waiter in the restaurant reminds Nicole of a penguin
Live Action: 20 penguins slide down
Ruud, Saskia and Nicole find a ball dropping out of the sky
Cartoon: I've Got A Mind - ball
Song: Adèle Bloemendaal: "Letters Te Koop" (Letters For Sale)
Muppets: Professor Hastings and Kermit demonstrate "Parts of the Body" (part one)
Cartoon: Tapdancing penguin
Muppets: Professor Hastings and Kermit demonstrate "Parts of the Body" (part two)
Closing scene: Cookie Monster eats the letter vendor's letters
Credits (featuring Cookie Monster and Ernie puppets)
Cast
Voices
External links
Ad blocker interference detected!
Wikia is a free-to-use site that makes money from advertising. We have a modified experience for viewers using ad blockers

Wikia is not accessible if you've made further modifications. Remove the custom ad blocker rule(s) and the page will load as expected.