Ad blocker interference detected!
Wikia is a free-to-use site that makes money from advertising. We have a modified experience for viewers using ad blockers

Wikia is not accessible if you've made further modifications. Remove the custom ad blocker rule(s) and the page will load as expected.
Sesamo Apriti (Open Sesame) was the Italian version of Sesame Street, first broadcast in 1971. Approximately 50 episodes of the American show were cut to a half hour, and translated into Italian. A Sesamo Apriti board game and record album were released in 1978.
The word Muppet, in the original dubbing, was translated by the term "babau" - which is the name of a legendary monster of fairy tales.[1]
The Sesame English and Il Mondo di Elmo (Elmo's World) spinoffs were broadcast in Italy beginning in 2004. 11 episodes of Giocate Con Noi (Play With Me Sesame) were broadcast in 2005. Global Grover began airing on RaiSat YoYo in October 2007 and RaiTre in 2008.
Performers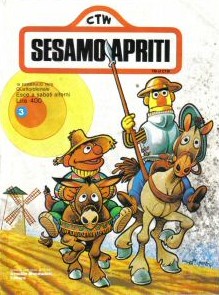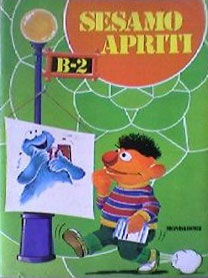 The voices on the series were dubbed into Italian.
Sesamo Apriti
Ernesto (Ernie): Dario Mazzoli
Berto (Bert): Loris Gizzi
Bob: Pierluigi Zollo
Maria: Pina Cei
Luis: Guido Celano
Linda: Emy Eco
Susan: Rita Baldini
Kermit: Leonardo Severini
Pasticcino (Cookie Monster): Franco Latini
Ghiottoncello (?): Edoardo Nevola
Rocco Scirocco (Grover): Fernando Cerulli
Mamma (?): Magda Mercatali
Bingo Rock (Little Jerry): Edoardo Nevola
Sesame English
Tingo: Luigi Rosa (Sesame English)
Il Mondo di Elmo (Elmo's World)
Elmo: Davide Garbolino (Il Mondo di Elmo and Giocate Con Noi)
Other Muppets: Alberto Höiss (Il Mondo di Elmo)
Giocate Con Noi (Play With Me Sesame)
Aurorabella (Prairie Dawn): Anna Lana (Giocate Con Noi)
Grover: Tommaso Andrei (Giocate Con Noi)
Bert: Stefano Brusa (Giocate Con Noi)
Ernie: Andrea Zalone (Giocate Con Noi)
Cookie Mostro (Cookie Monster): Mario Zucca (Giocate Con Noi)
Global Grover
Grover: Andrea Zalone (Global Grover)
Merchandise
References
External links
Sources