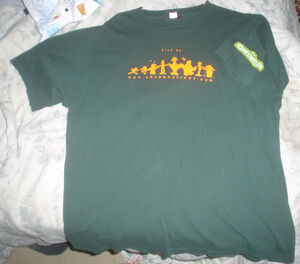 This is a rare shirt, given only to the staff that helped launch the first version of Sesamestreet.com.
Main Graphics
All of the graphics (including the text) are orange. Above the central graphic are the words "Link Up."
Below this are silhouettes of a number of prominent Sesame Street characters holding hands. They are (in order from right of the shirt to left):
Slimey can be seen beneath Oscar and Grover's joined hands. In addition, above the chain of characters, there are a few non-descript butterflies, also in silhouette form. Next to Oscar's garbage can, the images are simply copyrighted "Henson"
Beneath the main graphic reads "www.sesamestreet.com," spaced to stretch the entire length of the graphic.
Sleeve
A unique feature of this shirt is it's left sleeve. On the sleeve there is the original Sesame Street CTW logo, stretched to include ".COM" in the street sign.
The Shirt
The shirt itself is forrest green, cotton, and made by the Changes company (shown here in size XL). It is unknown if other sizes and colors were produced. The back of the shirt is blank.