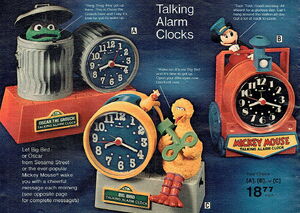 Bradley Time had the license to produce Sesame Street watches and clocks from 1974 to 1983. The company's first set of products was four watches featuring the Sesame characters pointing to the time of day, in the style of the famous Mickey Mouse watch.
Ernie, Oscar the Grouch, Cookie Monster and Count von Count were each produced as child-size watches. The Big Bird watch was produced in child and adult sizes.
1974 set
More watches
Ad blocker interference detected!
Wikia is a free-to-use site that makes money from advertising. We have a modified experience for viewers using ad blockers

Wikia is not accessible if you've made further modifications. Remove the custom ad blocker rule(s) and the page will load as expected.