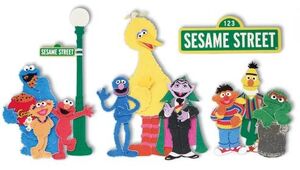 EK Success released a large array of scrapbooking accessories from 2007 through 2011. The full-body character stickers use fabric textures for the Sesame Muppets, giving them more of a three dimensional appearance.
The company also released a line of Muppet scrapbooking stickers.
2007-2009 set
3D Scrapbook Stickers
Jumbo 3D Stickers
Epoxy Stickers
T-Shirt Stickers
Minature reproductions of T-shirts. Each comes packaged on a metal hanger and includes adhesive foam which can be applied to the shirts to affex them.
Scrapbook Paper
Scrapbook Accessories
Scrapbooks
2011 set
Chipboard and crafting stickers
Paper
Scrapbooks
Ad blocker interference detected!
Wikia is a free-to-use site that makes money from advertising. We have a modified experience for viewers using ad blockers

Wikia is not accessible if you've made further modifications. Remove the custom ad blocker rule(s) and the page will load as expected.