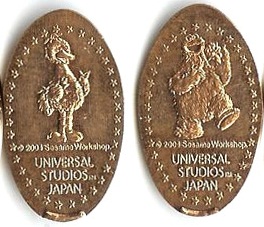 Sesame Street pressed pennies are souvenirs available at the Universal Studios Japan theme park in Osaka, Japan. Guests can use penny-pressing machines at souvenir stores near the attraction to make Muppet images out of pennies. The penny pressing machine is located outside the Sesame Street 4-D Movie Magic theater. There are three penny designs available.
Ad blocker interference detected!
Wikia is a free-to-use site that makes money from advertising. We have a modified experience for viewers using ad blockers

Wikia is not accessible if you've made further modifications. Remove the custom ad blocker rule(s) and the page will load as expected.