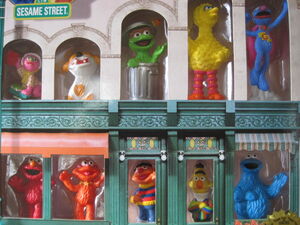 Tyco produced a series of Sesame Street playsets with PVC figures.
The following playsets were produced:
City Playset with figures of Big Bird, Oscar, Ernie and Cookie Monster (street set with cars)
Circus Playset with figures of ringmaster Big Bird, clown Ernie, and animal trainer Cookie (plus circus tent, cage and animals)
Garage Playset with figures of mechanics Big Bird, Elmo, Oscar and Cookie Monster
Funfair Playset with figures of Cookie Monster with cookies, Ernie with candy, Elmo with spun sugar and Zoe with lollipop
Caravan Playset with figures of hiking Big Bird, Prairie Dawn, Ernie and Elmo reading newspaper
Car And Figure Playsets:
Mailman Big Bird with van and letterbox
Grocer Ernie (figure from farm playset)
Mechanic Cookie (figure from garage playset)
Camper Elmo with car, campfire and canoe
Camper Bert with canoe
Ad blocker interference detected!
Wikia is a free-to-use site that makes money from advertising. We have a modified experience for viewers using ad blockers

Wikia is not accessible if you've made further modifications. Remove the custom ad blocker rule(s) and the page will load as expected.