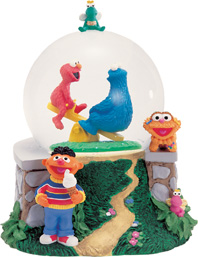 Gund created a 6.5 inch tall Sesame Street playground waterglobe. The detailed piece shows Elmo and Cookie Monster on a see-saw inside the globe. A Twiddlebug perches on top. The base is designed to look like a stone wall, and features a "Sesame Street PLAYGROUND" sign on the back. On the front, Zoe leans on the wall, and there is a small path among grass. Ernie stands to one side holding an icecream cone, and a second twiddlebug peaks out of a plant.
Ad blocker interference detected!
Wikia is a free-to-use site that makes money from advertising. We have a modified experience for viewers using ad blockers

Wikia is not accessible if you've made further modifications. Remove the custom ad blocker rule(s) and the page will load as expected.