Ad blocker interference detected!
Wikia is a free-to-use site that makes money from advertising. We have a modified experience for viewers using ad blockers

Wikia is not accessible if you've made further modifications. Remove the custom ad blocker rule(s) and the page will load as expected.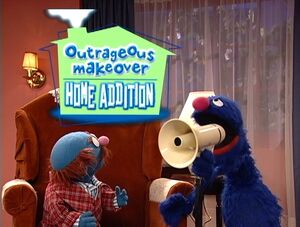 A list of Sesame Street sketches that are direct parodies of other shows - both recurring sketches and one-time sketches.
"30 Rocks," parody of 30 Rock
"The Add'ems Family," parody of The Addams Family
"Desperate Houseplants," parody of Desperate Housewives
The Eating Game, parody of The Dating Game
Family Food, parody of Family Feud
"Far From Seven," parody of Far From Heaven
The Grouch Apprentice, parody of The Apprentice
Here is Your Life, parody of This Is Your Life
"Law and Order: Special Letters Unit," parody of Law and Order: Special Victims Unit
Miami Mice, parody of Miami Vice
Monsterpiece Theater, parody of Masterpiece Theater
Mysterious Theater, parody of Mystery!
"Outrageous Makeover: Home Addition," parody of Extreme Makeover: Home Edition
Pre-School Musical, parody of High School Musical
The Remembering Game, similar structure to Concentration
Sally Messy Yuckyael, parody of The Sally Jessy Raphaël Show
Sounds of Our Lives, parody of Days of Our Lives
Spaceship Surprise, parody of Star Trek: The Next Generation
Squeal of Fortune, parody of Wheel of Fortune
"Survivor: Musical Chairs," parody of Survivor
Trash Gordon, parody of Flash Gordon
Trianglebob Trianglepants, parody of SpongeBob SquarePants
What's My Letter?, parody of What's My Line
What's My Part?, parody of What's My Line
See also