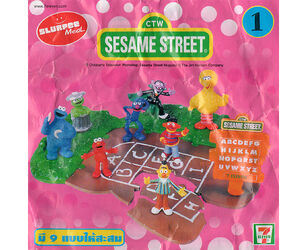 7-Eleven in Thailand released a set of 9 Sesame Street figures in 2000. Each figure came with a piece (either grass or a sidewalk) that they could be attached to. All pieces can be linked together like a puzzle.
Characters in this set include (each numbered in this order):
1. Big Bird
2. Bert
3. Ernie
5. Elmo
6. Grover
8. The Count
9. Sesame Street Alphabet sign (chase figure)
Ad blocker interference detected!
Wikia is a free-to-use site that makes money from advertising. We have a modified experience for viewers using ad blockers

Wikia is not accessible if you've made further modifications. Remove the custom ad blocker rule(s) and the page will load as expected.