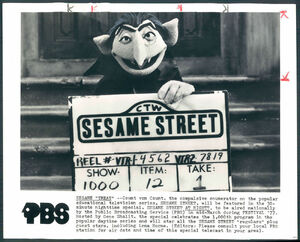 Sesame Street at Night? is a half-hour PBS special that aired in March of 1977 to celebrate Sesame Street's 1,000th episode.[1] Gene Shalit hosted the special, which also featured a Muppet lookalike of the critic. Featured segments included Grover and Lena Horne singing "How Do You Do?"[2]
According to press materials,
"

Shalit is to host an adult 'look' at Sesame Street in a Festival '77 special for PBS. The 30-minute special, Sesame Street at Night? takes its theme from a critic's remark when TV's most popular children's series began eight years ago – 'It's too good for kids.'[1]

"
Sources
Ad blocker interference detected!
Wikia is a free-to-use site that makes money from advertising. We have a modified experience for viewers using ad blockers

Wikia is not accessible if you've made further modifications. Remove the custom ad blocker rule(s) and the page will load as expected.