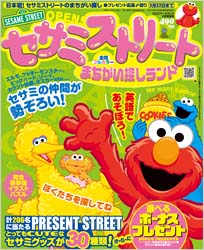 Published bi-monthly by Byakuya-Shobo Co. Ltd., the publication, roughly translating to Sesame Street Spot-The-Difference Land (セサミストリートまちがい探しランド), the publication includes over 40 "puzzles and illustrations" per issue, stories, and promotion of Sesame Street products.
The first issue was released on December 22, 2008.
External links
Ad blocker interference detected!
Wikia is a free-to-use site that makes money from advertising. We have a modified experience for viewers using ad blockers

Wikia is not accessible if you've made further modifications. Remove the custom ad blocker rule(s) and the page will load as expected.